Doctors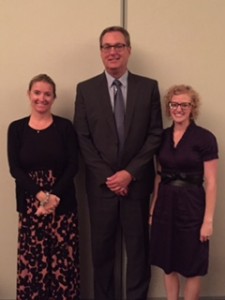 (Dr. Kadavy, Dr. Kant, Dr. Schneider)
Meet the experienced and friendly doctors who make EyeCare Associates the leading provider of vision care products and services in York.
Dr. Richard Kant
Dr. Richard Kant graduated from the University of Houston College of Optometry in 1981. He received a Bachelor of Science degree from the University of Nebraska in Lincoln prior to that. He is a member of the American Optometric Association and Nebraska Optometric Association. Involvement in the community includes the Optimist Club, of which he is a past president, and Emmanuel Lutheran Church, where he has been involved in the various boards governing the church, including chairman of the congregation on several occasions. Practice life began in York in 1981 when he was first associated with Dr. James Stansberry, until the senior partner retired. In 1998, he merged his practice with Dr. Don Witte to form EyeCare Associates LLC. Dr. Kant enjoys golf, yard and garden work and college athletics in his spare time.
Dr. Amy Kadavy
Dr. Amy Kadavy joined EyeCare Associates in August of 2007. She graduated cum laude from Southern College of Optometry in 2007 and summa cum laude from Doane College in 2003. Professionally, she is a member of the American Optometric Association, the Nebraska Optometric Association, the Contact Lens and Cornea Section, Beta Sigma Kappa Honorary Society and the Rigid Gas Permeable Lens Institute. She also enjoys working with children and received part of her training from Children's Mercy Hospital in Kansas City. She performs both Infant See and See to Learn examinations. In the community, she is a member of Emmanuel Lutheran Church, a Chamber Ambassador, and president of the York Area Chamber of Commerce. She grew up in Gresham, Nebraska and now resides in York with her husband Kelly, son Aidan and daughter Adelyn.
Dr. Faith Schneider
Dr. Faith grew up on a farm outside of the small rural community of Deshler, Nebraska. After high school, she attended the University of Nebraska-Kearney where she competed on the cross country and track teams and earned her Bachelor of science degree in Health Science. She obtained her Doctorate of Optometry from the University of Missouri-St. Louis College of Optometry in the spring of 2012. After optometry school, Dr. Schneider completed a one-year residency program at the University of Missouri-St. Louis College of Optometry, specializing in pediatrics/vision therapy/binocular vision disorders/learning-related vision disorders. She enjoys working with patients of all ages, and is extremely passionate about helping children with vision processing disorders that makes learning a challenge. She is a member of the Nebraska Optometry Association, American Optometry Association, and American Academy of Optometry.  In 2015 Dr. Schneider moved from Ogallala to be part of the York community with her husband, Ryan, and their three children, Joel, Molly, and Bode. In her free time she enjoys reading, running and spending time with her family.